Terry Hudgins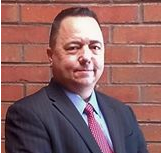 Terry Hudgins brings a wealth of experience and ministry leadership to THBC where he has served our international community as World Outreach Pastor since 2017.
A graduate of Mid-America Baptist Theological Seminary, Terry leads our church planting efforts, trains our international pastors, guides the ministry of Nashville World Outreach Partners, and leads our Refugee ministry.
Kori Bailey Director of International Outreach
Kevin Williams Refugee Children and Family Assistant
If you'd like to know how you can join us in serving the needs of our refugee community, email kbailey@thbc.com.